Welcome to find support for water protection!
Welcome to finding information, examples and practical tips for water protection!
Tools for water protection is a web-based toolbox providing support for implementing water protection actions at local level. It is designed for professionals and experts who do concrete work, strategic planning or make decisions on water protection in cities, municipalities, companies, NGOs or other organisations.
The Toolbox provides information and tools that assist with water protection. In addition to practical tips, tools and background information, in the Bank of Actions you can browse actions that local organisations have already implemented for the protection of local waters and the Baltic Sea – and you can also share your organisation's own actions!
This site was established in 2015 by the EU Life+ funded project CITYWATER, in collaboration with the Baltic Sea Challenge. The first tools are based on the results of the CITYWATER project. The site is now managed and updated by the Baltic Sea Challenge. More tools and actions are needed – please contact us and tell us about your ideas!
Read more on page About us!
EXAMPLES OF WATER PROTECTION ACTIONS
Find inspiration and ideas in water protection actions implemented by the Baltic Sea Challenge network.
Browse the Bank of Actions!

Agriculture

Awareness raising

Hazardous materials

Littering etc.

Oil spill prevention

Research and monitoring

Shipping and boating

Stormwater management

Strategies and programs

Wastewater management

Other

Drainage basin
---
Biogas from beach cast algal masses

Actor: Trelleborg municipality ● Year: 2011 ● Address: Smygehamn, Trelleborg, Sweden
In Trelleborg the consequenses of eutrophication are visible when marinas and beaches are covered with philamentous red algae. To create a resource from this biomass, it is collected and used to produce biogas in a two step-biogas facility close to Sweden's southermost point, Smygehamn in Trelleborg.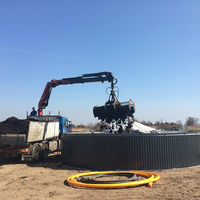 Description
Algae biogas plant has been running since May 2014 (pilot plant since 2011) and it treats 500-1000 m3 algae/year. It was financed by EU Life (Bucefalos), HaV and NIB. The algae collected in Trelleborg contains about 0,4 kg P and 7 kg N/ t wet weight. If 10 000 tons of algae is collected, this contains 60 t of N and 3,4 t of P. The biogas is equivalent of this is 110 000 liters of diesel.
Benefits
The beach cast algae contain nitrogen and phosphorus. When the algae is collected, nutrients are extracted from the sea. The algae is used to produce fossil free energy and the residual is returned to arable land as a nutrient source. The coastline is very important for recreation in Trelleborg, and clean beaches and a clean sea is essential for prosperity in the region.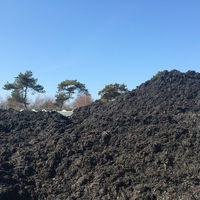 Background information
Further information
Name: Matilda Gradin ● Email: matilda.gradin (a) trelleborg.se ● Web page: www.trelleborg.se