Examples
Examples
In the map below, you can find examples of water protection measures within this topic. These actions are picked from the Bank of Actions - if you are interested to browse other water protection actions, visit the Bank of Actions.

Agriculture

Awareness raising

Hazardous materials

Littering etc.

Oil spill prevention

Research and monitoring

Shipping and boating

Stormwater management

Strategies and programs

Wastewater management

Other

Drainage basin
---
Aerator investment in Liepaja WWTP

Actor: Liepajas Udens (Liepaja Water) ● Year: 2015 ● Address: L?biešu iela 33 Riga, Latvia
The municipal company Liepaja Water invested in new aerators and a new PC-program in wastewater treatment plant during 2008–2010.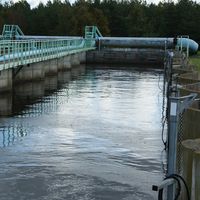 Description
The municipal company Liepaja Water (Liepajas Udens) takes care of the sewerage system and wastewater treatment in the city of Liepaja, in addition to providing drinking water. Liepaja Water invested in the replacement of new aerators and new PC-program in 2008–2010. The main reason for replacing the three old aerators with five new ones was that there were many problems with the old aerators since 2002 and they were close to the end of their lifespan. Aerators are important equipment in the biological treatment process. Due to new technology of aerators also the PC-program that controls the whole process had to be replaced at the same time.
Benefits
The investment have reduced the nutrient loading to the sea in two ways. The new aerators provide improved aeration in the biological process and this increases the treatment efficiency in this phase of the process. In addition, the new program improves the controllability of the whole process due to less frequent bypass situations and other problems related to the controllability. Annually the nitrogen load is reduced by 18,000 kg N/y and phosphorus load by 1,000 kg P/y. In addition, the annual energy consumption was reduced by a third, 0.8 MWh/y, which provides also climate associated benefits and energy cost savings.
Depending on how the protection of the Baltic Sea develops in the future, the annual social benefit from nutrient reductions to the sea are 0.1–1.5 M€/y. When overall costs and benefits during the expected 15-year lifespan are summarised, the estimated net benefit of the investments is between 2.1 M€ and 18.6 M€. According to the results, this single investment in a WWTP seems to be worthwhile from both a global and local perspective.
Background information
The impacts and the net present value of this action were assessed in the cost-benefit analysis study conducted in the EU Life+ funded project CITYWATER. Further information of the study can be found from !
Further information
Web page: http://www.liepajas-udens.lv/
Guidelines & Recommendations
Guidelines & Recommendations
text...