Examples
Examples
In the map below, you can find examples of water protection measures within this topic. These actions are picked from the Bank of Actions - if you are interested to browse other water protection actions, visit the Bank of Actions.

Agriculture

Awareness raising

Hazardous materials

Littering etc.

Oil spill prevention

Research and monitoring

Shipping and boating

Stormwater management

Strategies and programs

Wastewater management

Other

Drainage basin
---
Efficient purification of waste waters

Actor: Helsinki Region Environmental Services Authority HSY ● Year: 2008 ● Address: Hernepellontie 24, Helsinki, Finland
The waste water treatment plant of Viikinmäki has set for itself higher purification targets than the auhtorities require. Solid substances, substances which consume oxygen, 95% of phosphorus and 90% of nitrogen are removed from the waste water.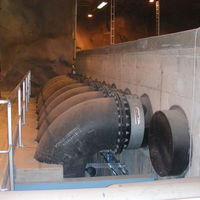 Description
In the waste water treatment plant, mainly built inside of bedrock, the waste waters of about 800 000 inhabitants and the regional industry are treated. The treated waste water is led in a rock tunnel to a distance of eight kilometres from the southern point of Helsinki to the sea in front of Katajaluoto, depth of more than 20 meters.
Benefits
Already according to the 2008 purification results the waste water treatment plant purified phosphorus 0.08mg/l more that the term of the license requires. The annual amount of treated waste water is 100 million m³. This means that 8 tonnes less of phosphorus is getting into the Baltic Sea annually. (The environmental permit of the plant was revised in 2015.)
Environmental permit
EU requirements
Purification result 2008
Purification result 2014
BOD7

< 10 mg/l
> 95%

< 30 mg/l
> 70%

6,7 mg/l
97%

6,3 mg/l
97%

Phosphorus

< 0,3 mg/l
> 95%

< 1,0 mg/l
> 80%

0,22 mg/l
96%

0,22 mg/l
97%

Nitrogen

> 70%

< 10 mg/l
> 70%

87%

4,4 mg/l
91%
BHK7 describes the amount of the oxygen consuming organic material in the waste water. Phosphorus and nitrogen are elements that cause eutrophication of water systems.
Background information
The Urban Waste Water Treatment Directive of the European Union defines the minimum level of the waste water purification. However, Finland has its own higher demands for the level of the waste water treatment (Vesioikeuden jätevesienlaskulupa 264/1961). The environmental license for waste water treatment plant of Viikinmäki specifies the institution's purification demands. It also gives regulations for emissions released into the air and for solid waste. The valid treatment obligations of the waste water treatment plant are its immediate and concrete objectives.
The authorities follow execution of the treatment requirements by using the annual and quarterly reports. Furthermore the waste water purification plant of Viikinmäki is obligated to achieve the quality objectives laid down by the City Council of Helsinki in its Baltic Sea regulation.
Further information
Name: Tommy Fred ● Email: tommy.fred (a) hsy.fi ● Web page: www.hsy.fi
Guidelines & Recommendations
Guidelines & Recommendations
text...