Examples
Examples
In the map below, you can find examples of water protection measures within this topic. These actions are picked from the Bank of Actions - if you are interested to browse other water protection actions, visit the Bank of Actions.

Agriculture

Awareness raising

Hazardous materials

Littering etc.

Oil spill prevention

Research and monitoring

Shipping and boating

Stormwater management

Strategies and programs

Wastewater management

Other

Drainage basin
---
Rid of toxic paints used on boats

Actor: SeaBoost Ltd ● Year: 2014 ● Address: Espoo, Finland
Our aim is to develop and bring to markets new products that keep boat bottoms clean from fouling and bay barnacles - better and more cost effective than toxic paints. We estimate that it is possbile to halve the amount of toxic paints used with using mechanic antifouling in Finland.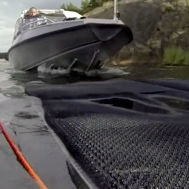 Description
We are continuously developing material to tell boaters about the new alternatives. We hope to be able to distribute this material as wide as possible to be able to start a real change.
Benefits
It is important to have real alternatives for consumers on the markets. With using other antifouling solutions it is possible to reduce the use of paints that are toxic to water life in the Baltic Sea region. The antifouling paints contain harmful substances like copper and zinc. In practice the paints wear out latest when washing and maintaining the boat bottom. This usually happens on the coasts and immediate vicinity of waters.
Background information
https://www.youtube.com/watch?v=diEIt5MmbzA
Further information
Name: Christian Feodoroff ● Email: christian.feodoroff (a) seaboost.fi ● Web page: http://www.seaboost.fi/
Guidelines & Recommendations
Guidelines & Recommendations
text...