Examples
Examples
In the map below, you can find examples of water protection measures within this topic. These actions are picked from the Bank of Actions - if you are interested to browse other water protection actions, visit the Bank of Actions.

Agriculture

Awareness raising

Hazardous materials

Littering etc.

Oil spill prevention

Research and monitoring

Shipping and boating

Stormwater management

Strategies and programs

Wastewater management

Other

Drainage basin
---
Photography competition: The Baltic sea, Our sea

Actor: Turku Region Nature Photographers Association ● Year: 2008 ● Address: Humalistonkatu 9-11, Turku, Finland
Turku Region Nature Photographers Association together with Turun Sanomat newspaper executed "The Baltic sea, Our sea" photography competition 18 March – 30 September 2008. Partners in the co-operation were the Nature Conservation District of Southwest Finland (Varsinais-Suomen Luonnonsuojelupiiri ry) and the Rajala Pro Shop. Own webpages were opened for the competition and it operated fully on the internet where it was possible for the public to evaluate the photos. The photos got more than 77 000 reviews. On the whole there were 440 photographers that participated in the competition with 2608 pictures.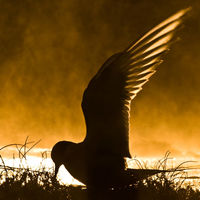 Description
The results of the competition were published on 11 November 2008 in the Rajala's Evening of the nature photography (Rajalan luontokuvailta) in which almost 1000 friends of the Baltic Sea participated. All the pictures of the competition were on view at the window gallery of Pulssi Medical Center in Turku in December 2008. The best 20 photos of the competition were also compiled into Baltic Sea, Our sea photograph exhibition, which was on view in several different locations during 2009-2010. The Baltic Sea, Our sea calendar was made of these pictures by Turun Sanomat newspaper and the profit made by selling the calendar donated to the Protection Fund for the Archipelago Sea.
Benefits
Increasing awareness about the Baltic Sea.
Background information
1. prize Teemu Köppä "Ray of light" (Valon pilkahdus)
2. prize Erkki Jylhä "At the southern fishing lodges" (Eteläisillä kalamajoilla)
3. prize Jukka Haltimo " Arctic tern" (Lapintiira)

Further information
Name: Jaakko Ruola ● Email: jaakko.ruola (a) kolumbus.fi ● Web page: http://www.tslk.fi/
Guidelines & Recommendations
Guidelines & Recommendations
text...