Examples
Examples
In the map below, you can find examples of water protection measures within this topic. These actions are picked from the Bank of Actions - if you are interested to browse other water protection actions, visit the Bank of Actions.

Agriculture

Awareness raising

Hazardous materials

Littering etc.

Oil spill prevention

Research and monitoring

Shipping and boating

Stormwater management

Strategies and programs

Wastewater management

Other

Drainage basin
---
Plans for Häppilännotko wetland

Actor: City of Turku ● Year: 2015 ● Address: Hirvensalo Island, Turku
City of Turku conducted a plan for storm water wetland to be implemented in future simultaneously to the construction of infrastructure in the new residential area.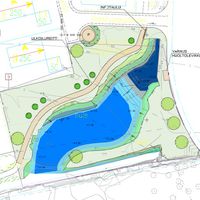 Description
Lake Illoistenjärvi is situated in the centre of Hirvensalo Island near centre of Turku. The lake is small and suffers from eutrophication. The land use in the catchment area is ongoing big changes as the fields and forest are turned in to residential areas. This increases the amount of storm water being formed in the area. It also increases the amount of sediments, nutrients and harmful substances ending up in the lake, especially during the construction phase.
Building a wetland into the Peippolanoja ditch leading to the lake helps to keep the lake's water quality from declining. Plans for the wetland were drawn 2015. According to the current plans the wetland will be implemented simultaneously to the construction of infrastructure in the area.
Benefits
The wetland will clean storm water before it reaches eutropficated Lake Illoistenjärvi. Vegetation in wetland binds nutrient from the water. It will also slow the flow of the water in the ditch which will detain sediments particles from the water. Water from the Lake Illoistenjärvi runs into the Baltic Sea so the measures taken at the lake will also improve the quality of the water discharging to the sea.
Background information
All measures are voluntary and aim at improving the state of Lake Illoistenjärvi and the Baltic Sea. The plans were made as a part of CITYWATER project.
Further information
Name: Olli-Pekka Mäki, Director of Environmental Protect ● Email: olli-pekka.maki ( at ) turku.fi ●
Guidelines & Recommendations
Guidelines & Recommendations
text...