Bank of Actions
Are you seeking examples or inspiration for water protection? There are plenty of potential actions to choose from! The Bank of Actions will provide your organisation with concrete ideas and examples of water protection activities implemented by organisations in the Baltic Sea Challenge network. You can browse these according to the theme, type of actor, country, year or keyword.
| | |
| --- | --- |
| | Join the Baltic Sea Challenge network by committing to water protection work, and gain the benefits of an international expert Network. Read more about the Baltic Sea Challenge and how to join the network. |
| | The Bank of Actions is always open to ideas for new actions. Is your organisation already a member of the Baltic Sea Challenge network and does it have good examples of water protection measures that it would like to share? Tell us about the work that you do, by filling in this form. We will put your action on the map! |

Agriculture

Awareness raising

Hazardous materials

Littering etc.

Oil spill prevention

Research and monitoring

Shipping and boating

Stormwater management

Strategies and programs

Wastewater management

Other

Drainage basin
---
Piloting reject-water treatment system in Tartu WWTP

Actor: Tartu Waterworks Ltd. ● Year: 2018 ● Address: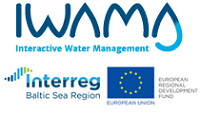 Tartu Water Company is the second biggest wastewater treatment plant (WWTP) in Estonia. Anaerobic sludge digester has been installed recently, but nitrogen-rich reject-water is recirculated back to the process, which increases the amount of external carbon source to be added. A full-scale deammonification technology was developed and installed and the plant undertook the technical audit to enhance the sludge management.
Description
In the frame of the construction of the anaerobic digester (2013-2015) in Tartu WWTP, tanks were designed for nitritation of the sludge water before releasing it back to the influent of the plant. This results in partial treatment of the sludge water. In order to enhance nitrogen removal process, a full-scale deammonification system was implemented for reject-water treatment using existing infrastructure. The deammonifying microbiological consortium is grown in-situ without a need of buying the sludge externally. It decreases the budget and gives valuable competence on start-up of deammonification technology.
Launching of deammonification process was performed in a way that does not influence WWTP efficiency. The installation reduced amounts of external carbon to be added and operational costs. Efficient operation of the new process requires skilled human resources in the future; thus involvement of students into process development activities was substantial.
Benefits
Piloting process has transnational relevance as a proof of applicability and sustainability of deammonification technology. As it is the first reject-water deammonification system in Estonia, operators of Tartu WWTP receive continuous support to achieve optimal process effiency. As a result, competence will be established in Estonia. Operating a full-scale deammonification system will be continued after the project.
Background information
The deammonification investment in Tarto was implemented within Interreg Baltic Sea Region Programme 2014-2020 financed project IWAMA (Interactive Water Management). Baltic Sea Challenge had close co-operation with IWAMA. Project activities concentrated on developing the capacity of water sector operators and pilot investments to increase energy efficiency and advance sludge handling. All project activities were targeted at better environmental state of the Baltic Sea through reducing nutrient input, optimizing energy consumption of the wastewater treatment plants, training water sector's employees and ensuring the transfer of knowledge. The partners of the IWAMA project joined the Baltic Sea Challenge network.

Further information
Name: Kaido Pohako ● Email: kaido(a)tartuvesi.ee ● Web page: www.tartuvesi.ee