Bank of Actions
Are you seeking examples or inspiration for water protection? There are plenty of potential actions to choose from! The Bank of Actions will provide your organisation with concrete ideas and examples of water protection activities implemented by organisations in the Baltic Sea Challenge network. You can browse these according to the theme, type of actor, country, year or keyword.
| | |
| --- | --- |
| | Join the Baltic Sea Challenge network by committing to water protection work, and gain the benefits of an international expert Network. Read more about the Baltic Sea Challenge and how to join the network. |
| | The Bank of Actions is always open to ideas for new actions. Is your organisation already a member of the Baltic Sea Challenge network and does it have good examples of water protection measures that it would like to share? Tell us about the work that you do, by filling in this form. We will put your action on the map! |

Agriculture

Awareness raising

Hazardous materials

Littering etc.

Oil spill prevention

Research and monitoring

Shipping and boating

Stormwater management

Strategies and programs

Wastewater management

Other

Drainage basin
---
Regional benchmark for energy efficiency in wastewater treatment

Actor: Technical University Berlin ● Year: 2018 ● Address: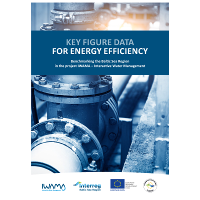 The comparative benchmark in smart energy management in relation to nutrient removal highlights current situation and trends in the wastewater treatment sector of the Baltic Sea Region. More than 65 WWTPs contributed to the development of the benchmark with their data, which allowed evaluating general inflow parameters, treatment efficiency in relation to energy consumption and energy production at WWTPs in different countries. The work included harmonization of input data due to different reporting habits in the BSR. Main key figures describing the treatment processes have been selected.
The answers were collected from Sweden, Finland, Russia, Estonia, Latvia, Lithuania, Poland, Belarus and Germany.
Description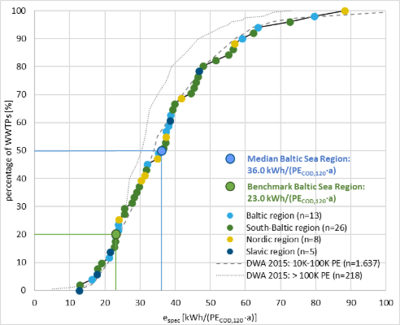 The benchmark report reveals how WWTPs in the region operate under different legal requirements and diverse restrictions regarding nutrient effluent values. Different technologies are applied with varying success in high treatment efficiency combined with low energy consumption. Several factors influential for the performance of WWT plants were identified throughout the work: the age of WWTP and installed equipment, motivated and well-trained staff in combination with the availability of financial resources devoted to upgrading of WWTPs, and constrains of national legal requirements. HELCOM requirements are adopted and fulfilled by many WWTPs in the Baltic Sea Region. Half of the WWTPs considered in the evaluation are operated using less than 37 kWh/(PECOD,120·a). But only 20 % consume less than 23 kWh/(PECOD,120·a). This benchmark is proposed to be aimed by all plants in the region.
Benefits
The report on key figure data is available for all water sector professionals in the Baltic Sea Region providing general information on the regional situation and technical details on the processes applied in the region. The full report (Key figure data for energy benchmark) is available in the project outputs section on the IWAMA project website: www.iwama.eu. Main key figures are displayed in user-friendly graphs, offering the opportunity to calculate respective values and compare. Benchmarking of the status of wastewater treatment plants helps in detecting possible performance gaps that can be further improved. Large deviations from the regional average indicate a demand for a detailed energy audit in order to identify the potentials for energy optimization in the treatment process. For this purpose, an energy self-audit tool was developed in the project, which is free to use.
Background information
Regional benchmark wa developed within Interreg Baltic Sea Region programme 2014-2020 financed project IWAMA (Interactive Water Management). Baltic Sea Challenge had close co-operation with IWAMA. Project activities concentrated on developing the capacity of water sector operators and pilot investments to increase energy efficiency and advance sludge handling. All project activities were targeted at better environmental state of the Baltic Sea through reducing nutrient input, optimizing energy consumption of the wastewater treatment plants, training water sector's employees and ensuring the transfer of knowledge. The partners of the IWAMA project joined the Baltic Sea Challenge network.

Further information
Name: Stefan Rettig ● Email: stefan.rettig(a)tu-berlin.de ● Web page: http://www.siwawi.tu-berlin.de/menue/startseite/parameter/en/