Bank of Actions
Are you seeking examples or inspiration for water protection? There are plenty of potential actions to choose from! The Bank of Actions will provide your organisation with concrete ideas and examples of water protection activities implemented by organisations in the Baltic Sea Challenge network. You can browse these according to the theme, type of actor, country, year or keyword.
| | |
| --- | --- |
| | Join the Baltic Sea Challenge network by committing to water protection work, and gain the benefits of an international expert Network. Read more about the Baltic Sea Challenge and how to join the network. |
| | The Bank of Actions is always open to ideas for new actions. Is your organisation already a member of the Baltic Sea Challenge network and does it have good examples of water protection measures that it would like to share? Tell us about the work that you do, by filling in this form. We will put your action on the map! |

Agriculture

Awareness raising

Hazardous materials

Littering etc.

Oil spill prevention

Research and monitoring

Shipping and boating

Stormwater management

Strategies and programs

Wastewater management

Other

Drainage basin
---
Leakage examination of sewage system

Actor: Vuove-Insinöörit Ltd ● Year: 2015 ● Address: Neljäs linja 4, Turku, Finland
Leakage examination of a sewage system includes measurement of quality and amount of water in all the lines discharging to a waste water manhole.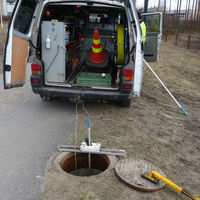 Description
Samples are taken from all lines separately and analysed immediately. The results are fed to a software that calculates each direction's share of the flow. Also the manholes are photographed. This way the lines are mapped systematically upstream through the whole area to be examined. When the area where the leakage is can be found, it is immediately investigated to find out the exact leakage points to the sewer system. The data is saved in the database of the software and a report is made. Usually renovation plans are made or the leaking objects are directly repaired.
An example of this method in Turku, where a leakage point of oil to the port area was examined for the city of Turku waterworks:
Waste water lines were discharging oil to the port of Turku. The port informed the city waterworks often that there is plenty of oil in the sea. The main sewage line of the city centre area and all its side lines were examined with this method. Thus a gas station was found where the leakage originated. The leak has now been fixed.
Benefits
When the leakage points in the sewer system are known as precisely as possible, the reparation works can be carried out cost-efficiently. The less leakage there is in the sewer system, the more effective the waste water treatment plant is and there are less overflows. Also the usage of chemicals is reduced.
The major benfit in locating of the leakage of oil to sewer system was that there is no oil discharge anymore to the sea.
Background information

Further information
Name: Timo Tammenlarva ● Email: timo.tammenlarva (a) kolumbus.fi ● Web page: www.vuove.fi