Bank of Actions
Are you seeking examples or inspiration for water protection? There are plenty of potential actions to choose from! The Bank of Actions will provide your organisation with concrete ideas and examples of water protection activities implemented by organisations in the Baltic Sea Challenge network. You can browse these according to the theme, type of actor, country, year or keyword.
| | |
| --- | --- |
| | Join the Baltic Sea Challenge network by committing to water protection work, and gain the benefits of an international expert Network. Read more about the Baltic Sea Challenge and how to join the network. |
| | The Bank of Actions is always open to ideas for new actions. Is your organisation already a member of the Baltic Sea Challenge network and does it have good examples of water protection measures that it would like to share? Tell us about the work that you do, by filling in this form. We will put your action on the map! |

Agriculture

Awareness raising

Hazardous materials

Littering etc.

Oil spill prevention

Research and monitoring

Shipping and boating

Stormwater management

Strategies and programs

Wastewater management

Other

Drainage basin
---
Communication strategy for local level water protection

Actor: Tallinn University, Institute of Communication ● Year: 2015 ● Address: Narva mnt 25 Tallinn, Estonia
Communication strategy to help actors communicate water protection activities.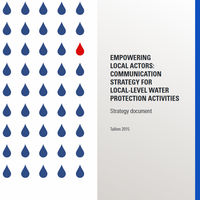 Description
The Communication Strategy compiled by Tallinn University (Estonia) helps relevant actors to communicate water protection activities and encourage citizen activity. These activities often face challenges as people have little faith in their own capabilities to achieve water protection. They do not know what they could do, and often also consider national governments, the European Union and industries to bear most responsibility. On the other hand, local municipalities view themselves as bearing most responsibility, but suffer from the lack of resources.
The strategy was preceded by two surveys: 1) among the citizens of Baltic countries and 2) among coastal municipalities in Baltic countries and Finland.
Benefits
The document enables local governments, NGOs and other organisations dealing with environmental issues to develop their activities in order to improve the environment around the Baltic Sea. It suggests ways of
raising awareness of the problems facing the Baltic Sea
increasing citizens' knowledge
engaging the public in environmental risk management
increasing citizens' activity and change their behaviour
engaging stakeholder groups and
building up local networks.
The preceeding surveys helped to identify knowledge gaps and attitudes that stand in the way of effective local level water protection activities. The awareness of those barriers will help to design communication activities that contribute to higher awareness and improved water protection behaviour of various actors.
Background information
The surveys and the communication strategy are part of the European Union Life+ program co-funded project CITYWATER – Benchmarking water protection in cities.
Download the Communication Strategy here!
Read more on the process of compiling a Communication Strategy here!
Further information
Name: Kaja Tampere ● Email: kaja.tampere (a) tlu.ee ● Web page: https://www.tlu.ee/en/institute-of-communication