Welcome to find support for water protection!
Welcome to finding information, examples and practical tips for water protection!
Tools for water protection is a web-based toolbox providing support for implementing water protection actions at local level. It is designed for professionals and experts who do concrete work, strategic planning or make decisions on water protection in cities, municipalities, companies, NGOs or other organisations.
The Toolbox provides information and tools that assist with water protection. In addition to practical tips, tools and background information, in the Bank of Actions you can browse actions that local organisations have already implemented for the protection of local waters and the Baltic Sea – and you can also share your organisation's own actions!
This site was established in 2015 by the EU Life+ funded project CITYWATER, in collaboration with the Baltic Sea Challenge. The first tools are based on the results of the CITYWATER project. The site is now managed and updated by the Baltic Sea Challenge. More tools and actions are needed – please contact us and tell us about your ideas!
Read more on page About us!
EXAMPLES OF WATER PROTECTION ACTIONS
Find inspiration and ideas in water protection actions implemented by the Baltic Sea Challenge network.
Browse the Bank of Actions!

Agriculture

Awareness raising

Hazardous materials

Littering etc.

Oil spill prevention

Research and monitoring

Shipping and boating

Stormwater management

Strategies and programs

Wastewater management

Other

Drainage basin
---
Precipitation of dissolved phosphorus from the agricultural ditches

Actor: Turku University of Applied Sciences ● Year: 2012 ● Address: Nautelantie, Lieto, Finland
In the Active Wetlands project (Interreg IVA) ferric sulphate was applied to agricultural field ditches for boosting the retention of dissolved phosphorus. During 2010-2012 the phosphorus dicharges from field ditches were reduced by over 50%.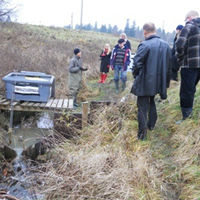 Description
The action reduced the phosphorus directly available for biological utilization by algae both in the ditch and in the receiving waterway. The study increased the knowledge of applicability of this kind of method in reducing phosphorus loading to the waters.
Benefits
The action was carried out within a research, development and awareness raising co-operation project in Estonia and Finland. The method is not included in the mandatory measures of the agri-environmental aid, but has interested water protection associations and private farmers.
Background information
Final report of the project: Active Wetlands – the use of chemical amendments to intercept phosphate runoffs in agricultural catchments
Further information
Name: Antti Kaseva ● Email: antti.kaseva (a) turkuamk.fi ● Web page: http://www.turkuamk.fi/