Welcome to find support for water protection!
Welcome to finding information, examples and practical tips for water protection!
Tools for water protection is a web-based toolbox providing support for implementing water protection actions at local level. It is designed for professionals and experts who do concrete work, strategic planning or make decisions on water protection in cities, municipalities, companies, NGOs or other organisations.
The Toolbox provides information and tools that assist with water protection. In addition to practical tips, tools and background information, in the Bank of Actions you can browse actions that local organisations have already implemented for the protection of local waters and the Baltic Sea – and you can also share your organisation's own actions!
This site was established in 2015 by the EU Life+ funded project CITYWATER, in collaboration with the Baltic Sea Challenge. The first tools are based on the results of the CITYWATER project. The site is now managed and updated by the Baltic Sea Challenge. More tools and actions are needed – please contact us and tell us about your ideas!
Read more on page About us!
EXAMPLES OF WATER PROTECTION ACTIONS
Find inspiration and ideas in water protection actions implemented by the Baltic Sea Challenge network.
Browse the Bank of Actions!

Agriculture

Awareness raising

Hazardous materials

Littering etc.

Oil spill prevention

Research and monitoring

Shipping and boating

Stormwater management

Strategies and programs

Wastewater management

Other

Drainage basin
---
Enhancing the activated sludge process of the WWTP

Actor: Turku Region Waste Water Treatment Plant Ltd ● Year: 2015 ● Address: Polttimonkatu 2, Turku, Finland
A new control system for opitimising energy consumption and nitrogen removal.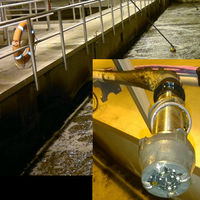 Description
The treatment plant implemented in 2015 a new control system for opitimising energy consumption and nitrogen removal in one of the treatment lines. The system is based on new kind of measuring technology and control function. Test runs were successful, and during 2015 the method will be used in all treatment lines.
Benefits
After full scale measurement and control function use it is estimated that the ammounium nitrogen concentration will decrease 15% and thus the annual load will be reduced by 15 t. The decrease in the need of air would mean 450 000 kWh annual decrease in the use of electricity.
Background information
Turku Region Waste Water Treatment Plant Ltd offers high-quality wastewater treatment services to its owners cost-efficiently. Operations are optimal and reliable and continuously further developed. The energy consumption and chemical use are optimised with the demands of the purification performance.
The aim of the plant is to operate with as as good as possible purification of the sewage - the minimum is to fulfill the environmental permit requirements. The projects of the company are preliminarily evaluated to ensure overall advantage in the financial and operational impacts. The company takes the Baltic Sea Action Plan into account when developing its operations.
Further information
Name: Jarkko Laanti ● Email: jarkko.laanti (a) turku.fi ● Web page: http://www.turunseudunpuhdistamo.fi/