Examples
Examples
In the map below, you can find examples of water protection measures within this topic. These actions are picked from the Bank of Actions - if you are interested to browse other water protection actions, visit the Bank of Actions.

Agriculture

Awareness raising

Hazardous materials

Littering etc.

Oil spill prevention

Research and monitoring

Shipping and boating

Stormwater management

Strategies and programs

Wastewater management

Other

Drainage basin
---
Voluntary oil spill containment group

Actor: SEA LIFE Helsinki ● Year: 2016 ● Address: Tivolitie 10 Helsinki, Finland
The company's own voluntary oil spill containment group to work under WWF Finland's instructions.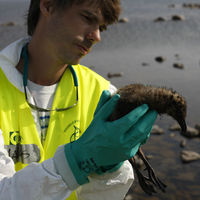 Description
SEA LIFE Helsinki's own voluntary oil spill containment group consists of the company's personnel. Since 2016 customers with SEA LIFE annual passes have been able to join, and the training will be actively continued. At the moment the group consists of ca. 30 persons with basic training. In addition some members of the group have completed team leader training and training on handling oiled animals.
In addition to training, SEA LIFE has invested in its own oil spill containment basic gear, to enable quick response and action if needed. In case of an oil spill, the SEA LIFE group acts primarily under the command of WWF Finland.
Benefits
Oil spill containment trainings build and maintain skills that are needed in case of an actual emergency. The training is also a welcome joint effort for the staff, and supports the positive image of the company.
Background information
Further information
Name: Markus Dernjatin ● Email: markus.dernjatin ( at ) sealife.fi ● Web page: https://www.visitsealife.com/helsinki/
Guidelines & Recommendations
Guidelines & Recommendations
text...