Examples
Examples
In the map below, you can find examples of water protection measures within this topic. These actions are picked from the Bank of Actions - if you are interested to browse other water protection actions, visit the Bank of Actions.

Agriculture

Awareness raising

Hazardous materials

Littering etc.

Oil spill prevention

Research and monitoring

Shipping and boating

Stormwater management

Strategies and programs

Wastewater management

Other

Drainage basin
---
An educational poster on Baltic Sea underwater life

Actor: SEA LIFE, John Nurminen Foundation and artist Peter Gibson (Art4you2.com) ● Year: 2016 ● Address: Tivolitie 10 Helsinki, Finland
"Life in the Baltic Sea" poster describes the underwater life and species of the Baltic Sea.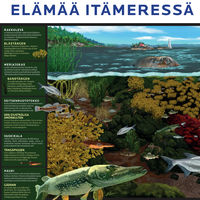 Description
"Life in the Baltic Sea" poster was designed by marine biologist Markus Dernjatin (SEA LIFE Helsinki), illustrated by artist Peter Gibson, and produced in cooperation with the John Nurminen Foundation, the Baltic Sea Challenge and the Finnish Board of Education. The poster describes the underwater life and species of the Baltic Sea. Two versions of the poster were made, the other presenting work of the cooperation partners, and a project which seeks to increase the utilisation of cyprinid fish from the Archipelago Sea in foods consumed by humans.
The poster has two dimensions:
Vertical: underwater zones for green, brown and red algae, and deep bottoms
Horizontal: sheltered bays of the inner archipeago with low salinity, algae zones of the outer archipelago, all the way to the outer sea with deep bottoms and marine species
Benefits
The poster is perfect for schools' and environment centres' educational purposes. With the impressive visual design and interesting information the cooperation partners get very positive visibility. The poster will be made available widely in Finland in order to get it to as many schools as possible.
The poster is currently available only in bilingual Finnish-Swedish version.
Background information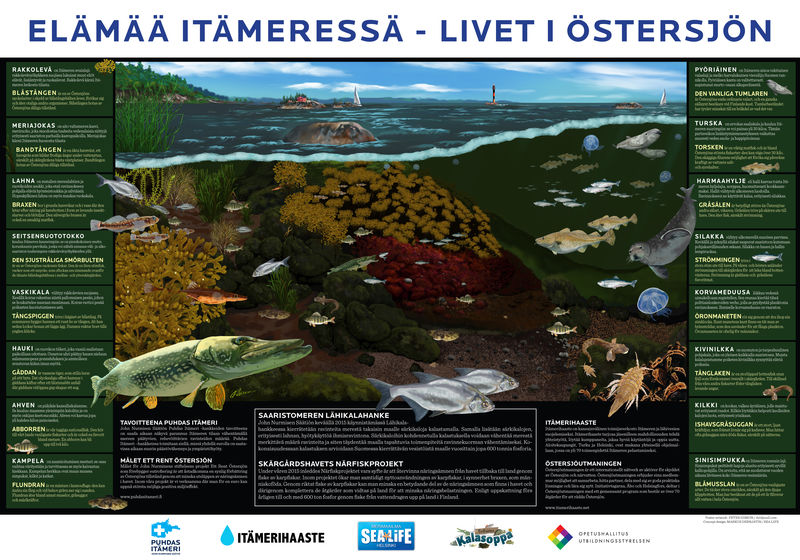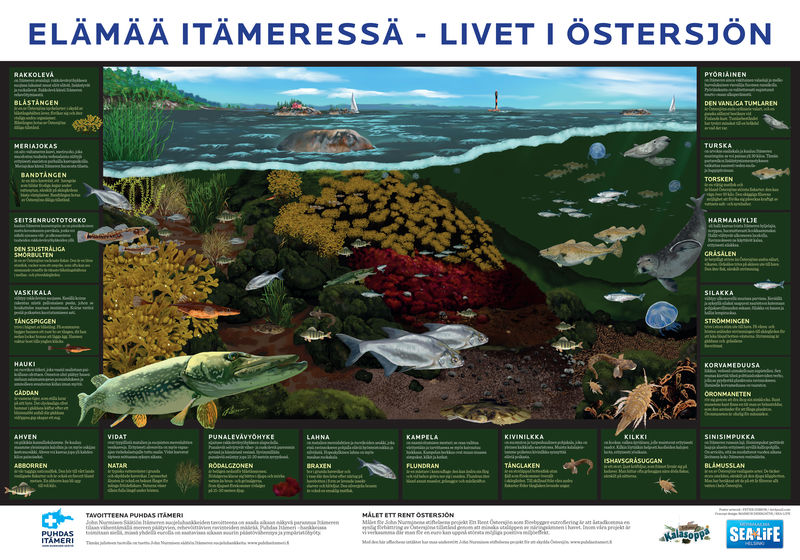 Further information
Name: Markus Dernjatin ● Email: markus.dernjatin ( at ) sealife.fi ● Web page: https://www.visitsealife.com/helsinki/
Guidelines & Recommendations
Guidelines & Recommendations
text...