Examples
Examples
In the map below, you can find examples of water protection measures within this topic. These actions are picked from the Bank of Actions - if you are interested to browse other water protection actions, visit the Bank of Actions.

Agriculture

Awareness raising

Hazardous materials

Littering etc.

Oil spill prevention

Research and monitoring

Shipping and boating

Stormwater management

Strategies and programs

Wastewater management

Other

Drainage basin
---
Fundraiser for Symbiosis project

Actor: Puolala school, city of Turku ● Year: 2015 ● Address: Kauppiaskatu 14, Turku, Finland
In our comprehensive school (from 1st to 9th grade) we raised with collection boxes and bank transfers little more than EUR 1000 for the Symbiosis sculpture project of the Protection Fund for the Archipelago Sea.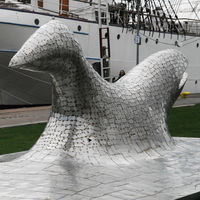 Description
Besides the fundraising there were experts visiting the school giving presentations of the Baltic Sea and how to protect it. Also circulating set of the Gulf of Finland exhibition was present for both the lower and upper gardes. The pupils participated in various eco challenges and made sea themed art. The homes of the pupils were informed of the project and it was presented in the annual report of the school.
Benefits
The funds gathered for the Symbiosis sculpture project are used to protect the Archipelago Sea. The school will get its own name plate to the sculpture that is designed by famous Finnish artist Stefan Lindfors. Awareness of both pupils and personnel of the school on the state of the Baltic Sea is increased, also hopefully the willigness to act for the sea.
Background information
Further information
Web page: http://info.edu.turku.fi/puolala/
Guidelines & Recommendations
Guidelines & Recommendations
text...