Examples
Examples
In the map below, you can find examples of water protection measures within this topic. These actions are picked from the Bank of Actions - if you are interested to browse other water protection actions, visit the Bank of Actions.

Agriculture

Awareness raising

Hazardous materials

Littering etc.

Oil spill prevention

Research and monitoring

Shipping and boating

Stormwater management

Strategies and programs

Wastewater management

Other

Drainage basin
---
Environmental dredging of contaminated sediments

Actor: Port of Turku ● Year: 2009 ● Address: Linnankatu 90, Turku, Finland
The environmental dredging of River Aurajoki was done by the Port of Turku during October 2008 - January 2009. The total mass of sediments that was moved by stabilising to the special lagoon of Pansio was about 88 000 m3.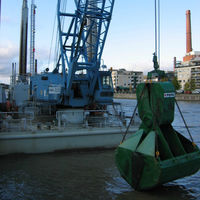 Description
Contaminated sediments had been found widely on the lower reaches of River Aurajoki. According to the examination tributyltin (TBT) appeared across the sediments of the seabed (0-20cm), furthermore, levels of some heavy metals were also high.
Benefits
The bottom sediments of River Aurajoki's lower reaches were cleaned. Because of this, it was possible to eliminate spreading of contaminants to the area affected by River Aurajoki discharge, straits and harbour. From the Port of Turku's point of view, the dredging was a preventive action. In the future the solid substances discharged with the currents are cleaner than before and will not cause problems for the maintenance dredging of the port.
Background information
The action was voluntary. The port found it necessary to carry out the environmental dredging as a preventive action. The EU-Life STABLE project was also a part of the action. The project developed process handling technique of the contaminated sediments in the special lagoon of Pansio.
Further information
Name: Markku Alahäme ● Email: markku.alahame (a) turku.fi ● Web page: http://www.portofturku.fi/
Guidelines & Recommendations
Guidelines & Recommendations
text...