Examples
Examples
In the map below, you can find examples of water protection measures within this topic. These actions are picked from the Bank of Actions - if you are interested to browse other water protection actions, visit the Bank of Actions.

Agriculture

Awareness raising

Hazardous materials

Littering etc.

Oil spill prevention

Research and monitoring

Shipping and boating

Stormwater management

Strategies and programs

Wastewater management

Other

Drainage basin
---
Introducing the water protection measures in agriculture

Actor: City of Helsinki ● Year: 2011 ● Address: Viikinkaari 11, Helsinki, Finland
In order to introduce water protection measures carried out in agriculture the Environment Centre and the Public Works Department of Helsinki together with the University of Helsinki installed signposts at the outdoor recreation areas of Haltiala, Tuomarinkylä and Department of Agricultural Sciences of Viikki.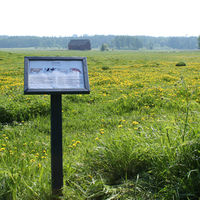 Description
The signposts give information about the effects of agricultural measures to water systems and about water protection actions. With the help of these signposts the visitors can become acquainted with different cultivation methods, such as direct sowing, differences between organic and conventional farming, meadows and fields which are located on the lands of the farms, fallows, buffer zones, forest areas, different breeds of cattle and other animals and plants of the area. The beautiful pictorial signposts have been placed on the corners of the fields and pastures. Because of this, getting to know the signs also offers a nice trip to the nature.
Benefits
The signposts in the outdoor recreational areas increase peoples' knowledge of the state of the Baltic Sea and the agricultural actions taken for protecting the water systems. This way, people can receive a new perception of the causes of the diffuse loading.
Background information
The action is totally voluntary. Its purpose is to increase awareness of the effects of agriculture to the Baltic Sea and of the actions for protecting the water systems.
Further information
Name: Päivi Islander ● Email: paivi.islander (a) hel.fi ● Web page: www.hel.fi
Guidelines & Recommendations
Guidelines & Recommendations
text...