Bank of Actions
Are you seeking examples or inspiration for water protection? There are plenty of potential actions to choose from! The Bank of Actions will provide your organisation with concrete ideas and examples of water protection activities implemented by organisations in the Baltic Sea Challenge network. You can browse these according to the theme, type of actor, country, year or keyword.
| | |
| --- | --- |
| | Join the Baltic Sea Challenge network by committing to water protection work, and gain the benefits of an international expert Network. Read more about the Baltic Sea Challenge and how to join the network. |
| | The Bank of Actions is always open to ideas for new actions. Is your organisation already a member of the Baltic Sea Challenge network and does it have good examples of water protection measures that it would like to share? Tell us about the work that you do, by filling in this form. We will put your action on the map! |

Agriculture

Awareness raising

Hazardous materials

Littering etc.

Oil spill prevention

Research and monitoring

Shipping and boating

Stormwater management

Strategies and programs

Wastewater management

Other

Drainage basin
---
Sludge and energy audits at the Szczecin WWTP

Actor: Water And Sewage Company Ltd of Szczecin ● Year: 2017 ● Address: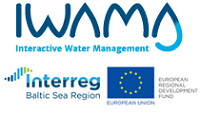 "Pomorzany" WWTP located in Szczecin (PL) turned out to be one of the best among similar plants of this type operating in the Baltic Sea Region. This is the result of sludge and energy audits carried out as a part of the IWAMA project, where the Water and Sewage Company Ltd. of Szczecin participated.
Description
Within IWAMA Project, sludge and energy audits were carried out at the Pomorzany and Zdroje WWTPs. Works on data collection by professional auditors began already in February 2017. At that time, a group of over a dozen experts from Technical University of Berlin (Germany) and University of Tartu (Estonia) carried out a detailed inspection of both our WWTPs. Sludge samples were collected and specialized energy measurement equipment was installed for a few days. Sludge samples were examined in a laboratory in Estonia, while engineers from Berlin dealt with the analysis of data provided by energy consumption meters. A lot of work was also done by ZWiK's WWTP staff, which were obliged to collect and send gradually to Berlin and Tartu a large amount of specific data.
Based on all audits, benchmarking was made by experts from universities. While the results from Zdroje WWTP are still being updated and there are no complete final conclusions and recommendations, as far as Pomorzany WWTP is concerned, we were the one of the best plants of all the nine WWTPs involved in audit activities.
During the energy audit, all the technological facilities of WWTP were subjected to detailed examinations. Sludge audit was focused only on the sludge treatment node with an indication of the quality of sewage sludge tested at all stages of their processing. WWTP staff participated actively in the audit, and provided laboratory data series on the quality of raw and treated sewage on an ongoing basis. The auditor emphasized in his conclusions that the audit data were provided in a model way. The final report made by him contained three main chapters. The first concerned financial analysis, the second conclusions, and in the last ones recommendations were included.
When considering the financial analysis for the Pomorzany WWTP, the audit experts pointed to the very low staff costs of the WWTP maintenance. They were positively surprised by the fact that a plant of this size and importance operates with such low personnel costs. Pomorzany WWTP was ranked first among other tested WWTPs in the category of fees incurred for neutralization of 1 ton of dry sludge mass. Pomorzany WWTP was also well rated in other evaluated categories such as:
the amount of electricity produced in kWh from 1 m3 of biogas,
the amount of heat produced in kWh from 1 m3 of biogas
total energy produced from biogas in kWh / m3.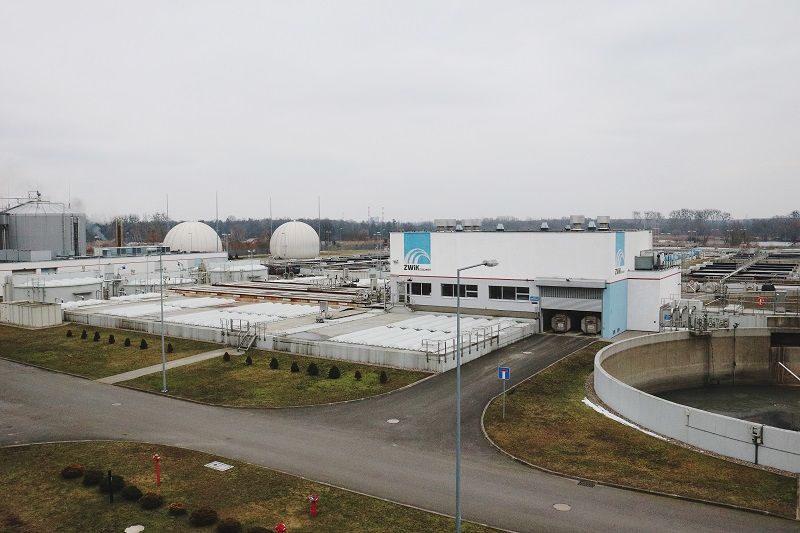 Benefits
From the point of view of Pomorzany WWTP management staff, the most important information was included in the recommendations.
The auditors noticed the possibility of significant energy savings, which can cause lower operating costs in the future. The greatest potential is in exchange of a 10-year fine bubble system and use of a less energy-intensive system of mixing biological reactors based on modern agitators cooperating with inverters. Only these two components consume half of the power in WWTP. Reduction of energy consumption in this area would bring very measurable benefits. During the Audit Group Meeting in Berlin, ZWiK's staff informed the auditors that in the three-year Investments Company Plan, modernization of aeration system along with the improvement of the mixing of biological reactors was placed as a priority. Implementation of these tasks will take place in 2019-2020.
Another audit recommendation was related to the final ash management after the sewage sludge is incinerated. There are significant amounts of phosphorus in it, reaching up to 15% of the waste mass. Pomorzany WWTP staff informed that solutions are being sought in this case as well. For this purpose, cooperation with the West Pomeranian University of Technology in Szczecin and local chemical plants was initiated.
Background information
Sludge and energy audits at the Szczecin WWTP were carried out within Interreg Baltic Sea Region Programme 2014-2020 financed project IWAMA (Interactive Water Management project). Baltic Sea Challenge had close co-operation with IWAMA. The project activities concentrated on developing the capacity of water sector operators and pilot investments to increase energy efficiency and advance sludge handling. All project activities were targeted at better environmental state of the Baltic Sea through reducing nutrient input, optimizing energy consumption of the wastewater treatment plants, training water sector's employees and ensuring the transfer of knowledge. The partners of the IWAMA project joined the Baltic Sea Challenge network.

Further information
Name: Krzysztof Maciejewski ● Email: k.maciejewski(a)zwikszczecin.pl ● Web page: http://zwik.szczecin.pl/