Bank of Actions
Are you seeking examples or inspiration for water protection? There are plenty of potential actions to choose from! The Bank of Actions will provide your organisation with concrete ideas and examples of water protection activities implemented by organisations in the Baltic Sea Challenge network. You can browse these according to the theme, type of actor, country, year or keyword.
| | |
| --- | --- |
| | Join the Baltic Sea Challenge network by committing to water protection work, and gain the benefits of an international expert Network. Read more about the Baltic Sea Challenge and how to join the network. |
| | The Bank of Actions is always open to ideas for new actions. Is your organisation already a member of the Baltic Sea Challenge network and does it have good examples of water protection measures that it would like to share? Tell us about the work that you do, by filling in this form. We will put your action on the map! |

Agriculture

Awareness raising

Hazardous materials

Littering etc.

Oil spill prevention

Research and monitoring

Shipping and boating

Stormwater management

Strategies and programs

Wastewater management

Other

Drainage basin
---
International events

Actor: City of Helsinki / CITYWATER (EU Life+ project) ● Year: 2015 ● Address: Viikinkaari 2 Helsinki, Finland
Networking and meeting face to face is an important part of the Baltic Sea Challenge activities.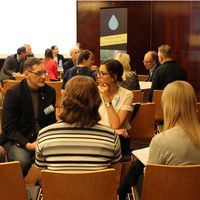 Description
Networking opportunities is an important part of what the Baltic Sea Challenge offers the partners of the network. It gives experts an opportunity to meet face to face, which is still, despite new possibilities of online interaction, the most effective way of learning and contact making.
Since the BSC network was established in 2007, numerous events have been held around the Baltic Sea region. For example, in 2014 and 2015 two big networking events were organised in Helsinki and Tallinn. The "Cities Forum" in Helsinki 2014 was arranged back to back with the official opening of the Gulf of Finland Year 2014 and focused on what cities can do, giving tools for water protection. It applied a cost-benefit perspective on four themes: storm waters, waste water reception in ports, food, and waste water treatment plants.
The "Baltic Sea Forum" in Tallinn 2015 was a whole day seminar arranged as part of the Estonian Municipality days, and there were participants from all around the Baltic Sea region. On the agenda were challenges in municipal water protection work, and tools were brought up including an environmental communication strategy for the three Baltic States; a cost-benefit perspective on water protection, and networking. Several Baltic Sea Challenge partners also had the opportunity to present their actions, and along the day participants took part in lively discussions and group work.
Both networking events were organized by the Life+ financed CITYWATER project in collaboration with the Baltic Sea Challenge network.
The Baltic Sea Challenge also participates in events organised by other organisations. In addition to the international work, the network is working actively in Finland where it was established.
Benefits
The Cities Forum and Baltic Sea Forum are examples of Baltic Sea Challenge events that bring together a variety of actors including municipalities and cities, organizations and associations, ministries, waste water companies, foundations, international organizations and universities. The events connect experts – the ones actually doing grass root work, presenting their experience to their corresponding colleagues, in order to bring about change and new ideas in working procedures and established practices. In addition to this, the events have brought together both big and small organizations as well as actors from the coast and from inland.
Taken together, experiences from the past years have shown that the Baltic Sea Challenge provides an excellent platform for cooperation, networking, exchange of ideas and working models.
Background information
The Baltic Sea Challenge network was established in 2007 by the mayors of the Cities of Helsinki and Turku. Since then, the network has organized numerous events in the Baltic Sea region. Partly resulting from these events there have been several projects under the umbrella of the network, for example Cities for a healthier sea (2010-2012, EU Central Baltic Interreg financed), CITYWATER (2012-2015, EU Life+ financed) and Östersjöutmaningen möter Sverige (2014-2015, financed by Ålandsbanken and the City of Turku).
Further information
Name: Lotta Ruokanen ● Email: lotta.ruokanen (a) hel.fi ● Web page: http://www.itamerihaaste.net/en