Bank of Actions
Are you seeking examples or inspiration for water protection? There are plenty of potential actions to choose from! The Bank of Actions will provide your organisation with concrete ideas and examples of water protection activities implemented by organisations in the Baltic Sea Challenge network. You can browse these according to the theme, type of actor, country, year or keyword.
| | |
| --- | --- |
| | Join the Baltic Sea Challenge network by committing to water protection work, and gain the benefits of an international expert Network. Read more about the Baltic Sea Challenge and how to join the network. |
| | The Bank of Actions is always open to ideas for new actions. Is your organisation already a member of the Baltic Sea Challenge network and does it have good examples of water protection measures that it would like to share? Tell us about the work that you do, by filling in this form. We will put your action on the map! |

Agriculture

Awareness raising

Hazardous materials

Littering etc.

Oil spill prevention

Research and monitoring

Shipping and boating

Stormwater management

Strategies and programs

Wastewater management

Other

Drainage basin
---
Campaigning for sustainable water use

Actor: AS Tallinna Vesi ● Year: 2016 ● Address: Ädala 10, Tallinn, Estonia
AS Tallinna Vesi (producer of drinking water and treatment of wastewater in Tallinn) works extensively with increasing environmental awareness in order to support conscious and sustainable use of water.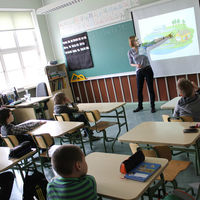 Description
AS Tallinna Vesi carries out several actions to improve people's environmental awareness on tap water quality, clean water, and sustainable use of water. Better awareness helps people to be more conscious consumers. A comprehensive list of activities involves outdoor media campaigns, actions for engagement, open door days and ongoing excursions through the year at the treatment plants to introduce the work and quality of the service. To raise more conscious youth, the employees attend school classes and visit kindergartens, where they discuss about the water cycle, consumption and quality. The company engages people through several actions, projects and co-operations:
Besides its main responsibilities – production of drinking water and treatment of wastewater – the treatment plants also have an important role to play in increasing the population's awareness. Each year AS Tallinna Vesi introduces the plants' work to a growing number of people. In 2015, more than 3,000 visitors participated in guided tours in the treatment plants.
Every year, the AS Tallinna Vesi opens the doors of the treatment plants also during the open doors day. In spring 2015 the wastewater treatment plant was visited by 150 people, and later the open doors day at Ülemiste Water Treatment Plant in August 2015 attracted nearly 400 people, who participated in a sports event and also visited the plant. Open door day at the wastewater treatment plant in 2016 was carried out again at the end of May 2016.
The company continues to contribute to environmental awareness of young people who value the nature and environment. Each year, the employees organize group conversations in kindergartens and schools discussing water circulation, how to save water and avoid blockages. Nearly 1,500 children participated in these group conversations in 2015.
During 2015 and in the beginning of 2016 AS Tallinna Vesi participated in Tallinn Environmental Project, in the course of which it carried out 16 excursions in wastewater treatment plant and 63 in water treatment plant. During the project, 1822 (out of which 1146 in 2016) children from age 7 to 18 participated, from schools across Tallinn.
Over the years, the company has prepared many educational study materials on water and environment for children and teachers. These include, for example, a study material series "Blue Classroom" for the teachers in nature studies supporting the national study program in classes about water. The games and puzzle book for kindergartens and primary schools got new great sequels in 2015: Tilgu's playing cards and a puzzle book "Puzzle with Tilgu". To introduce the water-related study materials to kindergarten and school teachers an information day was organized in August 2015 with nearly 100 teachers participating from all over Estonia.
In the beginning of 2016, the company entered into co-operation with Healthy Estonia Association to increase tap water awareness. Joint campaign with Healthy Estonia, Ministry of Social Affairs and Norway Grants aimed to attract youth with a message "Tap water makes you beautiful. Smoking and drinking make you ugly".
AS Tallinna Vesi keeps on working hard to promote the environmental thinking amongst the Estonian population. In its messages and activities, it encourages them to drink tap water. With message "Tap water IS drinking water", it draws people's attention to the excellent quality of tap water. It has also continued co-operation with restaurants within campaign "Ask for tap water" so that the customers would have the courage and awareness to ask for tap water when they dine in restaurants. The company also organized a live action in the Tallinn old town and set up a public water tap at Tallinn Airport. While only few years ago, in 2011, 48% of people trusted to drink tap water, the number of people trusting tap water quality had grown to 86% by the end of 2015.
Following two years of co-operations with Tallinn restaurants to serve and thereby promote tap water and more sustainable consuming habits, AS Tallinna Vesi launched a tap water restaurant website: www.vesikraanist.ee . The page unites the restaurants in Tallinn, where people can drink tap water.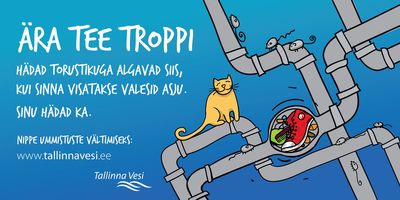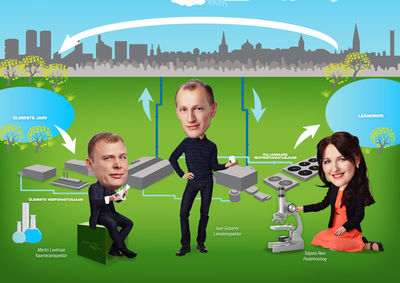 Benefits
People that are more aware make better decisions as consumers. By understanding the water cycle and becoming more conscious about what happens to the consumed water, people do make decisions based on the understanding of their impact on natural habitat including the Baltic Sea.
Knowledgeable society can be key in reducing the environmental load on the Baltic Sea.
AS Tallinna Vesi's campaigns and activities serve to raise the awareness about the water cycle in terms of where does the clean water come from and where does the wastewater go. By enhancing environmental consciousness and responsibility of the people, we encourage society to think about the origin of drinking water and to use the water sustainably.
Background information
AS Tallinna Vesi is the largest water utility in Estonia, influencing the lives of nearly 1/3 of the population and in addition, all people living next to the Baltic Sea. The company understands the impact of its business on the surrounding natural habitat and therefore deems it important that its activities engage with the interests of the community. AS Tallinna Vesi gives its best to do more than is required and expected in order to make a positive impact on the natural environment around, as well as the quality of people's life. Although the company is not obligated to contribute to increasing people's awareness, it finds it important to do so, as better awareness increases the sense of responsibility to make more conscious decisions, thereby having a long term positive effect on, amongst others, the well-being of the Baltic Sea.
Further information
Name: Maris Neeme ● Email: maris.neeme ( at ) tvesi.ee ● Web page: www.tallinnavesi.ee