Bank of Actions
Are you seeking examples or inspiration for water protection? There are plenty of potential actions to choose from! The Bank of Actions will provide your organisation with concrete ideas and examples of water protection activities implemented by organisations in the Baltic Sea Challenge network. You can browse these according to the theme, type of actor, country, year or keyword.
| | |
| --- | --- |
| | Join the Baltic Sea Challenge network by committing to water protection work, and gain the benefits of an international expert Network. Read more about the Baltic Sea Challenge and how to join the network. |
| | The Bank of Actions is always open to ideas for new actions. Is your organisation already a member of the Baltic Sea Challenge network and does it have good examples of water protection measures that it would like to share? Tell us about the work that you do, by filling in this form. We will put your action on the map! |

Agriculture

Awareness raising

Hazardous materials

Littering etc.

Oil spill prevention

Research and monitoring

Shipping and boating

Stormwater management

Strategies and programs

Wastewater management

Other

Drainage basin
---
Reception point for the cruisers' waste waters

Actor: Port of Turku ● Year: 2010 ● Address: Linnankatu 90, Turku, Finlanf
Reception point for the cruisers' waste waters was completed in the beginning of the summer of 2010 in the Port of Turku.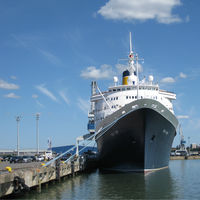 Description
From the berths which do not have a built-in sewer, the cruisers' waste waters can be received to the reception point with tank cars. The Port of Turku has also decided to charge no extra fee for the reception of waste waters for the cruisers which run in the harbour during the years 2010-2011.
Benefits
The purpose of the action was to improve the reception capacity of waste waters in the Port of Turku. By offering a free reception service for the cruisers, they are encouraged to leave their waste waters ashore.
Background information
The action was voluntary. At the moment the compulsory discharge of waste waters at ports applies only to the vessels of domestic traffic. By removing the waste water fee from the cruisers, they were encouraged to reduce the pollution load of the Baltic Sea.
Further information
Name: Markku Alahäme ● Email: markku.alahame (a) turku.fi ● Web page: http://www.portofturku.fi/